Themed Learning Communities
---

Themed Learning Communities extend your learning by connecting you with other new students who share your passions.
Themed Learning Communities
Special sections of UNIV 101 that explore the university through a particular theme (sports, volunteering, curiosity, and creativity)
Get to know other new students who share your passion for the course's theme
Have memorable experiences, plan for academic and personal wellness, and develop strategies to be successful at KU
2-credit-hour experience for incoming freshman students
UNIV 101: Section 22907, MW 12:00-12:50pm, WES 4019
Creativity, University & You is a Learning Community focused on thinking about the role of the creative arts in society. We will focus on the ways in which creative arts allow us to negotiate our relationship with the world and the people around us, as well as the ways they enhance and support our transition to college. Field trips, visitors, projects, and discussions help students understand how and where they can learn about and become involved with photography on and off campus. Using critical and intersecting lenses, course readings and assignments challenge students to think about the varied roles that the creative arts play in our lives. 
UNIV 101
Meg Kumin, Marketing Communications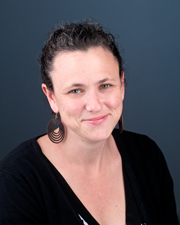 Meg Kumin is a photographer with KU's Marketing Communications Office. She first fell in love with photography at age fifteen, where she spent all of high school behind the camera and under the dim, red light of the darkroom. As a curious collector of knowledge and experiences, her career path into photography was long and circuitous. The journey led her all over KU's campus, where she received both a BA in American Studies and an MS in Computer Science. She later became a software developer at KU's Natural History Museum. It wasn't until after three babies and a couple family crises, that Meg rebooted, and emerged in her early dream of being a professional photographer. She returned to KU in 2015 to become a university staff photographer, where she delights in documenting Jayhawks and all of their unique adventures. Learn more about Meg here.